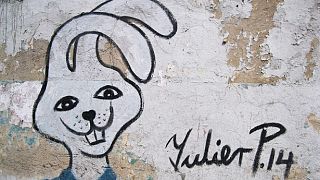 A Cuban street artist said Monday the 14th of August that he was detained by police and told to erase the more than 200 or so murals that have gained him widespread attention throughout the country.
Yulier Rodriguez Perez said authorities kept him in custody for two days last week and told him that he will be charged with damaging property if he does not remove the whimsical abstract images that he has painted on decrepit buildings and partially collapsed walls around Havana and in some provincial capitals.
#Autoridades cubanas liberan a Yulier P . con la condición de que borre todas sus obras ,de los derrumbes y paredes destruídas# pic.twitter.com/CMo5qMVcp8

— Yulier Rodriguez Per (@YulierPer) 19 août 2017
Yulier Rodriguez Perez, Street Artist:
"I am not going to erase my work. I firmly believe that art in the city, and especially in destroyed public spaces, is needed because it creates a discussion, a point of dialogue that in my case is revealing a social conscience."
Rodriguez, who signs his paintings as "Yulier P.," began painting about three years ago. There are now around 200 in Havana alone, so many that there is hardly a neighbourhood in the Cuban capital where you can't find one of the sprawling works.