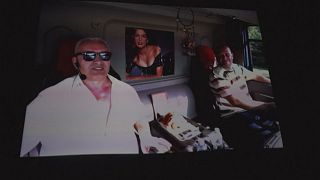 The stories of the drivers' lives on the road have been made into a new play which is fittingly set on board a moving truck.
Fifty people are climbing on board for a trip from Russia's Far East all the way to Moscow – and they'll experience the whole thing without leaving the city.
The two week journey across Russia has been condensed into a 90 minute-play called Cargo Moscow, which is narrated by two long haul drivers,
The back of the truck has been converted into an auditorium with comfortable seats and video screens.
One side of the truck is made of glass, which allows the audience to see out but not be seen from the road.
Professional truck driver Andrei Fomin climbs behind the wheel and the journey begins. "The most difficult part was to learn how to speak," says Andrei.
"Because you need to speak on time. The words should match with the videos and with the scenes outside. It should be calculated up to a fraction of a second, a minute. It should all be in your mind. It is a 90-minute trip. And everything should be in the right order."
As the truck arrives at its final destination, a singer greets the audience with a bittersweet song of life on the road.
The show is popular with audiences. But despite the success of the show, Andrei says that when it's over he will return to the road.