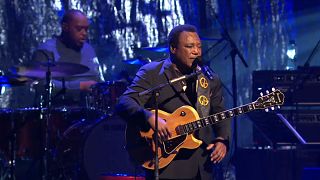 Legendary 74 year old American jazz-man George Benson performed for the 25th time at this year's Jazz Montreux festival, proving his sound is still intact after all these years.
Benson is a virtuoso guitarist who's seduced the public with his incomparable sense of groove and his smooth voice.
Five years ago, he had an amazing moment at the Stravinski: alongside Ray Charles, he seductively purred the lyrics of a Chaka Khan solo. He's known for the inescapable "Give Me The Night", produced by Quincy Jones. Benson has been awarded 10 Grammy Awards. He is – first and foremost – a legend, with his combinations of jazz pop and soul.
ICYMI – My latest from MontreuxJazz</a> - Ibrahim Maalouf, George Benson shine at Montreux 51st edition - <a href="https://t.co/GpVGEaa5sg">https://t.co/GpVGEaa5sg</a></p>— Stephanie Nebehay (StephNebehay) July 14, 2017
Other highlights at this year's festival included Britain's Michael Kiwanuka, who supported Adele on her 2011 Live tour. He performed from his introspective new album Love and Hate.
And French rock musician Matthieu Chedid, who's best known by his stage name M is for Mali, performed some of his latest work that links Paris to Bamako, fusing pop music with traditional sounds.