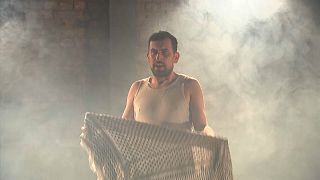 Ahmed Tobasi has traded terrorism for treading the boards. The young actor is touring the UK with his one-man tragicomedy 'And Here I Am'. The series of narratives details his time in the Palestinian Islamic Jihad, subsequent arrest and detention and his decision to turn his life around.
"Yeah, most of it it's my real life, which I didn't realize my life (was) that crazy, actually until I'm doing it now, I'm like, oh my God, this was happening with me?" he explained. "I never noticed these troubled moments until now, you know, the shooting, the fighting, the bombs was just fun and now I discover it's crazy stuff. I didn't know."
'And Here I Am' outlines the darkly comic struggles of a young Palestinian growing up with conflict all around.