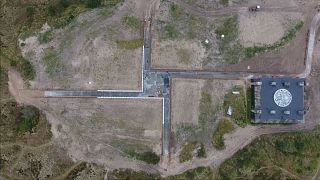 One of the biggest bunkers built by the Nazis has been turned into a museum.
The Tirpitz bunker in dunes on the west coast of Denmark were built in 1944.
Denmark's Crown Prince officially opened the Tirpitz Museum on Thursday.
Exhibition spaces have been created by an architect who worked on one of the Ground Zero skyscrapers in New York, as well as The Google headquarters.
Bjarke Ingels told reporters: "Well in a way you can say that the Museum has been conceived as the antithesis of the bunker.
"So the bunker is this sort of concrete hermetic object rejecting the surroundings, whereas the museum is an open, airy and welcoming meeting place in the heart of the dunes."
The Tirpitz Museum opens with a WWII exhibition called "A Wall of Concrete".