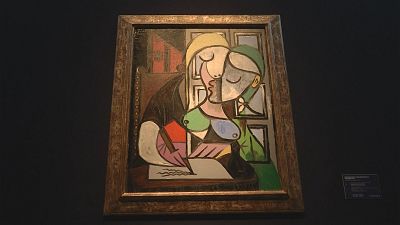 A never-before-seen at auction painting by Spanish artist Pablo Picasso went under the hammer at Christie's auction house in London on Tuesday (27 June).
It gives a valuable glimpse of the artist's young French muse, who is thought to have influenced the course of his art in an unprecedented manner. It depicts his mistress Marie-Thérèse Walter, who he met seven years prior.
Woman writing #picasso#fineartpic.twitter.com/rIRbjL4xCj

— Pablo Picasso (@pablocubist) 8 mai 2017
She sits by a window in Boisgeloup chateau near Paris, penning a letter to her beloved artist. She's depicted with rounded curves, flowing blonde hair and red lips. This portrait was in the artist's collection until 1961. Named, 'Femme écrivant' – or 'Woman Writing' – it's dated 26 March 1934. Picasso hung on to the work until 1961 – more than 25 years after it was painted.
"This painting is painted of Picasso's muse, and she's probably the biggest love of his life," explains art critic Estelle Lovatt.
"It's the most extraordinary painting. It hasn't been seen at auction before and it's been in private hands for over fifty years.
"When you're talking about works of this standard, the prices don't drop. You know, it's estimated at anywhere between 25 and 40 million. Will it go above and beyond? Probably. There's only one of these."
It duly sold for £34,885,000 / €39,570,000
Our #ImpressionistandModernArt Evening Sale achieved a total of: £149,500,000 / $190,313,489 / €169,682,494 https://t.co/f2QPh15MY8pic.twitter.com/0Qp8IMr6LT

— Christie's (@ChristiesInc) June 27, 2017