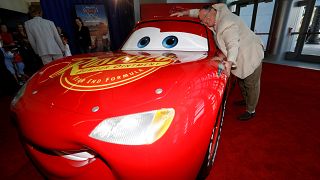 Fasten your seatbelt…they are back!
And in the third installment of the 'Cars' franchise, lead auto Lightning McQueen, voiced by Owen Wilson, has changed.
"In the first one, with Paul Newman's character sort of helping Lightning McQueen… be a better person and by being a better person he became a better racer," Wilson said at the world premiere in Anaheim, California.
"I think in this one, 'Lightning', it sort of comes full circle… where I end up being a little bit of a mentor."
Animation studio Pixar summarises the plot of director Brian Fee's 'Cars 3' as follows:
"Blindsided by a new generation of blazing-fast racers, the legendary Lightning McQueen (voice of Owen Wilson) is suddenly pushed out of the sport he loves. To get back in the game, he will need the help of an eager young race technician with her own plan to win, inspiration from the late Fabulous Hudson Hornet, and a few unexpected turns."
One more dream. ⚡ One last chance. ⚡ One more week. ⚡Watch the final trailer for #Cars3. pic.twitter.com/gcayxNQpoi

— Disney•Pixar (@DisneyPixar) 9 juin 2017
Others voices behind the vehicles were also on the red carpet.
"I love these movies. Like the first 'Cars' movie for me is so special because I'm like a guy who really loves road-trips and that's something that that movie really kind of tapped into," said actor Armie Hammer, who plays Jackson Storm.
"I was unaware of the fans, the level of fandom that some people have for this franchise, and to see it you just can't help but get excited yourself," added actress Cristela Alonzo, who brings race technician Cruz Ramirez to life.
Our review of #Cars3https://t.co/Q4UHXvMmNGpic.twitter.com/PScg05r23R

— Variety (@Variety) 13 juin 2017
More than a decade after the first Cars film, Disney-Pixar are in the driving seat again with 'Cars 3'.