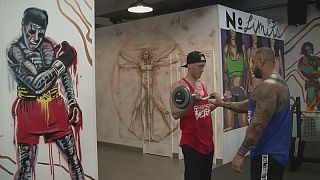 Pumping iron in front of a wall of giant super heroes – if that doesn't motivate you to get fit, nothing will!
Or at least that's the idea at this gym in North Hollywood where members are encouraged to get physical in front of graffiti.
Jack Torosian, owner of No Limit Training Facility said: "When you first walk in, the first thing you notice is the art. The art provides the positive energy and the motivation to be in the mood and to be in the right place and the right mindset to do whatever you need to do."
In addition to being a place to work out, the gym is also a gallery where artists can sell their graffiti work. Curtis Simmons is an art dealer with Spectrum, a mobile based platform for artists in Los Angeles.
"All the art you see in this gym is available on the app. And you can download the app and if you like any of this art you can go to the app, find the artist that you like and they can actually do this in your home. You can buy art from them and it gets shipped directly to your house," Curtis said.
Inspirational superhero images, all aimed at bringing out your inner strength.