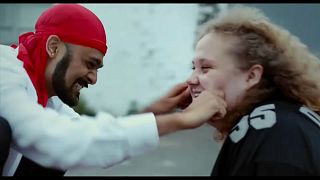 'Patti Cake$' is the story of a plus-sized white girl from New Jersey, USA, with big dreams of becoming a gangster rap star.
The movie got a standing ovation at this year's Director's Fornight section at Cannes, wowed by Danielle Macdonald's performance as the young Patricia Dombrowski, who goes by the aliases "Killa P" and "Patti Cake$".
"While there's a bit of a far-fetched fairy tale aspect to it, (director Geremy) Jasper wraps it all up with a high-octane finale that leaves you wanting to see more of Patti and, more realistically, of Macdonald, whose talent is all but staggering," wrote Hollywood Reporter critic Todd McCarthy after the movie premiered to rave reviews at Sundance in January.
You're a boss bitch.

PATTICAKE$ // In theaters August 18th #PattiCakesMoviepic.twitter.com/G3DE6YcYtO

— PattiCake$ (@PattiCakesMovie) May 17, 2017
'Patti Cake$': Film Review | Sundance 2017 – Hollywood Reporter https://t.co/XqVFZda503

— Bitz Entertainment (@bitzent) January 24, 2017
Macdonald is not even from New Jersey – she is Australian – and had never rapped before.
The movie marks the feature directing debut of Geremy Jasper, who also wrote the screenplay and is known for his edgy music videos for Florence + The Machine and Selena Gomez.
Jasper said he first thought of the character of Patti about 17 years ago and wrote the film based on his own experience with hip hop in New Jersey.
"She's based on the women I grew up around, and New Jersey is like the ultimate underdog state, and hip hop celebrates the underdog, and being, like, a big female from New Jersey just felt like the perfect someone to come in there and subvert all the kind of ideas you would have as a rapper or even just, like, a Jersey girl," Jasper said.
"Patti Cake$" star Danielle MacDonald on how she learned how to rap for the #Sundance breakout https://t.co/HHoGFtJDwDpic.twitter.com/K0eIUfzq6h

— Variety (@Variety) January 31, 2017
MacDonald had played roles in US TV shows, but said she didn't know "how to do a Jersey accent."
"I was very confused as to how Geremy saw me in this role because he just asked me to come in and do the Sundance Labs and he saw a film that I'd been in, but that is the most different thing in the world from this character so like, 'what makes you think I can do this? Because I can't rap and I'm not from Jersey'. I don't think he even knew I was Australian."
Jasper called MacDonald "the hardest working person" he'd ever ever met. "We worked our asses off to kind of get to that place where it became sort of second nature, what she was doing," he said.
According to Variety magazine, Macdonald's performance "is one of the year's most endearing discoveries" – even if Patti Cake$ may not be in line for the fame and fortune she initially craves.
"I think that's the really incredible part of it, that she absolutely loves this music and she finds a way to express herself through it," said Macdonald.
The movie will hit movie theatres in the US and Europe in August.