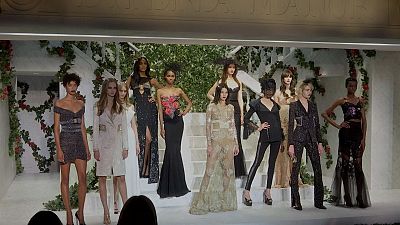 The fashionistas were caught in a flurry of snow flocking to the opening of New York Fashion week.
As is traditional the label Nicholas K opened the event. Nicholas Kunz and her brother Christopher are the creative minds behind the label.
"We decided 90's hip-hop because the message was also so strong. It was about ethnic diversity, communal activism. You know, Black Panthers were a huge thing in the hip-hop," explained Nicholas Kunz.
Nicholas K's Nicholas & Christopher Kunz stormed into New York Fashion Week this morning—they traditionally open #NYFWpic.twitter.com/5GZjV7z3Wf

— Masato Jones (@masatostudio) February 10, 2017
American hip hop DJ Rob Swift was brought into spin the discs for the models on the catwalk or maybe it should have been re-named Glam street to reflect the vibrant colours, oversized pants, big hooped earrings and the metallic make up.
The term 'nomad' is often used to describe Nicholas K's aesthetic and so it was again for this autumn/winter collection.
The start of the show had to be put back an hour because of the weather but the conditions outside were soon forgotten. Though it wouldn't have done to be outside in some of the designs.
Tadashi Shoji
Japanese-born designer Tadashi Shoji wanted to go back to those days of love & peace in 60's and early 70's with his collection.
On the runway that mood was translated into models strutting their stuff in flowing velvet dresses, opulent jacquard coats and flashy sequin gowns with sexy lace inlets.
Collections that have a 70s/80s vibe always win my heart (if done well). Tadashi Shoji, F/W17 pic.twitter.com/F2zVeYfNFe

— s (@notforterry) February 11, 2017
The designer opted for rich jewel-tone colours such as forest green, burgundy red and navy.
Shoji moved to the US in 1973 to study fashion design in Los Angeles and launched his label in 1982. He claims more than half of his employees are immigrants.
The 69-year-old's philosophy which has underpinned his creative outlook is, any woman, any size, any country, any religion.
La Perla
Welcome to "La Perla Manor." This is how the Italian company chose to present its new line.
Creative director Julia Haart summed it up saying, "it's an Italian company, it's an English manor, French laces in the United States. I love the idea of bringing all women together. I want us to be a multi-national company that encompasses every woman."
The Italian brand, known for its luxury lingerie, debuted its first full ready-to-wear collection with pieces that will take customers from the bedroom to the red carpet.
The creative director usually takes traditional innerwear – that's underwear and translates it into outerwear. So what used to be 'in' is now 'out'.