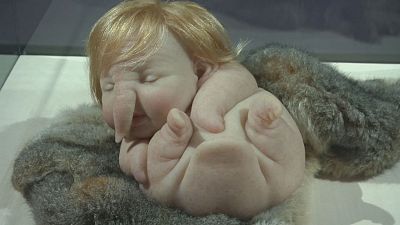 Eerily life-like sculptures on display at a new art exhibition will leave visitors doing a double-take.
Sculptures of human bodies including a five metre-long baby are drawing in audiences at Copenhagen's Arken Museum of Modern Art.
Using incredible detail, artists have created hyper-realistic bodies alongside fantasy artworks.
The Exhibition "Gosh! Is it alive?!" at ARKEN Museum for Moderne Kunst in Denmark opens on Feburary 4, 2017. pic.twitter.com/0yxE8mKouv

— Zarko Baseski (@ZarkoBaseski) January 31, 2017
Naja Rasmussen, Exhibit Curator explained: "The reason why we are interested in creating a human copy is that it's just something that would expand our idea of existence.
"It's a dream and perhaps to many a nightmare…"
She added: "What we would like to do is to have our guests feel that uncanny presence of their bodies in a space where you can find yourself thinking about the difference between you and them.
"What is the definition of a living person? What defines man? And what defines the artificial and the real?"
The exhibition explores a contemporary trend for lifelike sculptures and our fascination with recreating our own image.
More than 30 artists from around the world have created the sculptures with technical precision.
'GOSH! Is it Alive?' runs until August at Copenhagen's Arken Museum of Modern Art.