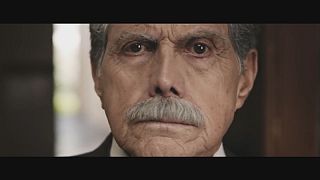 The Mexican film "Un padre no tan padre" is a comedy and very funny but it is also something of a rarity.
The movie has got distribution rights in the US which doesn't often happen. Homemade Mexican films had just a 6.1% share in 2010.
When promoting the film in Los Angeles the cast couldn't avoid questions about that wall.
"We knew he was going to do something like that because it was a very important topic during his campaign, the whole 'build the wall' from the very beginning. Many people decided to support him so it was obvious that from the moment he accepted the position he was going to do something about that.
'What can I tell you? I am Mexican. This thing about building a wall to me is – I mean I even thought it was a sort of joke. But now I think the main message for us Latinos is to unite. Let's unite ourselves," said actress Jacqueline Bracamontes.
Movie review: #UnPadreNoTanPadre' offers quirky, warm-hearted humor https://t.co/H5qYfrGFBK via azcentral</a></p>&mdash; Pantelion Films (PantelionFilms) January 26, 2017
Veteran actor Hector Bonilla suggests laughter might be the best solution. The quirky comedy follows his character 85-year old Don Servando Villegas.
He gets kicked out of his retirement home for bad behaviour and ends up living with his estranged son in a house "full of hippies".
"Latinos know how to laugh. We have this eternal defense mechanism of laughter. What we need right now to confront all of it this is one big smile. Let's just wait for a reason to take over," he suggested.
Actor Benny Ibarra hopes the comedy will strike a chord with American audiences as the theme and the message behind this intergenerational relationships tale is universal.
"One of the movie's biggest messages or rather my favourite is how we can learn from everyone and how important it is to keep an open heart and an open mind so that this lesson will be absorbed," he said.
The movie has now been released in the US. The wall? The script is still in development.
Mexican President Enrique Pena Nieto cancels trip to Washington for summit with Donald Trump https://t.co/R5AFrlCYJO

—

BBC

Breaking News (@BBCBreaking) January 26, 2017