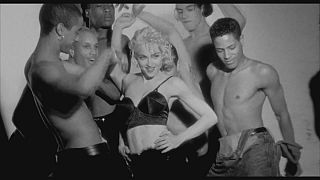 In 1990 Madonna chose seven male dancers to join her on her controversial 'Blond Ambition Tour' in support of her fourth studio album, "Like a Prayer."
'Strike a Pose' is a new documentary in which the dancers who became icons of sexual freedom tell their story of life on the road with a superstar. Jose Guitierez was just 18 at the time.
"Amazing, such an experience. I developed such a bond with her, she was kind of like, during that time we looked to her as kind of like a motherly type feel, you know? She was taking such good care of us and we were doing what we loved and I think that it was such a great time," the dancer recalled.
An exclusive clip from our raw footage: Jose Gutierez Xtravaganza goes back in time to recall the best performance of Like a Virgin. pic.twitter.com/XUgjuYZfEm

— Strike a Pose Film (@StrikeAPoseDocu) January 15, 2017
"Strike a Pose" documents what happened to the dancers after the provocative and highly successful 'Blond Ambition Tour'.
Gutierez, a dance teacher now, admits he never imagined the impact it would have on his own life.
"It's crazy, the last thing you are thinking is that you are going to move so many people in a community and we were so expressive, and so outspoken and at that time we were just being ourselves.
'It wasn't like we were portraying anything or trying to be political about anything. We were just like comfortable being us and expressing ourselves."
The film reveals three of the dancers had been diagnosed with HIV before they joined the tour. One of them died some years later just 26.
'Strike a Pose' has been screened at a number of festivals and will premiere theatrically in New York later this month.