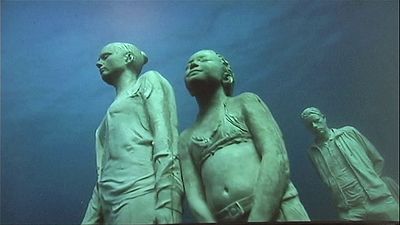 British artist Jason DeCaires Taylor has created what is the first underwater museum in Europe.
An exhibition of 300 works of art, all in concrete have been taken to their new 'home' the Atlantic Museum Lanzarote which was opened this week.
The artist began work on his project three years ago. Some of the sculptures are based on local people while another is called 'The Raft of Lampedusa'. It is there to make a statement about the refugee crisis.
Underwater Museum Installation in Lanzarote Featuring Human Sculptures https://t.co/EXyK0MbFewpic.twitter.com/UXUlcXA2mZ

— Fubiz (@fubiz) January 7, 2017
Any fears that the corrosive sea water will eat away at these works of art can be discounted. They have all been crafted from high quality marine cement which is guaranteed to survive in the depths for 300 years.
The concrete doesn't affect the marine ecosystem or local flora and fauna.
Divers will be able to see this unique underwater gallery which sits 15 metres below the surface while visitors can view it from glass bottom boats.
The artist said he wanted the exhibition to be a tribute to those who succeed, but also those whose "dreams and hopes remain at the bottom of the sea".