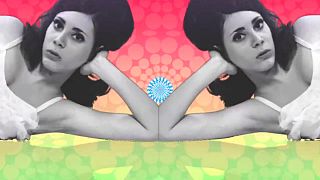 You Say You Want a Revolution?
All the creativity and counter-culture of the sixties, from swinging London to the benches of the University of Berkeley in California. You'll see it all in London.
This is an exhibition that highlights both the explosion of the phenomenon of the teenager and rock'n roll. They wrote the story and changed the world.
How the Sixties changed our lives forever. Exhibition in London, V&A, 10.9.2016-Feb. 2017 https://t.co/7cgy8ElHE1 via TelegraphArt</a></p>&mdash; Andrea Joosten (AndreaJoosten) September 7, 2016
Rodchenko, a legend of the 20th century
Sculptor, photographer, designer, in a word: artist. Alexander Rodchenko was one of the great visionaries of the first half of the twentieth century in the field of graphic art.
He was one of the founders of constructivism after the Bolshevik Revolution of 1917. The Multimedia Art Museum in Moscow has handed him a deserved tribute.
The paradise of Michele Giambono reconquered
In Venice art of the Quattrocento – the fifteenth century and the Renaissance period is on show in the Gallerie Dell'Accademia.
It is staging a retrospective of the Italian artist Michele Giambono who combined the Venetian and Gothic influences in his paintings.
GIAMBONO, Michele St Chrysogonus on Horseback c. 1450 Panel 199 × 134 cm San Trovaso, Venice pic.twitter.com/s3ORd2N4Oo

— Juan Valdés C. (@javc1964) December 28, 2015
Archeology in danger
If you are in Pairs this weekend there is an exceptional exhibition at the Grand Palais. It is free and in 3D and 360 degrees it will take you on a tour of four major archaeological sites which today are threatened by war.