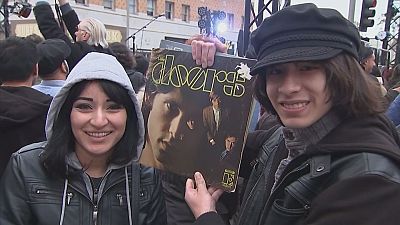 A musical memory from the sixties thanks to the iconic rock band The Doors. It's 50 years since the band released its debut album of the same name and they returned to the stage to mark the date with a special performance.
Doors' Debut Album: 10 Things You Didn't Know – https://t.co/Dv8bA8Yh41#TheDoors#TheDoors50

— The Doors (@TheDoors) January 5, 2017
Surviving members John Densmore and Robby Krieger joined hundreds of fans to celebrate January 4th which was designated 'Day Of The Doors' in Los Angeles. Many waited for hours in the rain in the Venice neighbourhood of the city where the band was formed.
"Well it's the 50 years of The Doors. We started right here in Venice and we are ending up right here in Venice too so it's all a cycle, you know," said Robby Krieger.
In 2013 keyboardist Ray Manzarek died of cancer in Germany he was 74.
Jim Morrison the band's lead singer and songwriter, died in 1971 aged 27. What would his reaction have been to the event?
"You cannot say what Jim would have done or said because he always would do something different. But I bet you he would've been here and he would have dug it and I think he would've been proud," opined Robby Krieger.
The group known for hits such as 'Light My Fire' and 'Riders On The Storm' performed 'L.A. Woman' for the crowd.
The two musicians future plans are very different. While Krieger still looks to the oldies for inspiration, Densmore finds his close to home:
"I don't have my finger on the pulse of music. I read a lot and what really inspires me are my grandkids," remarked John Densmore.
The Doors were unique and among the most controversial and influential rock acts of the 1960's, mostly because of Morrison's lyrics and charismatic but unpredictable stage persona.
After Morrison's death in 1971 aged just 27 the remaining members continued as a trio until disbanding in 1973.