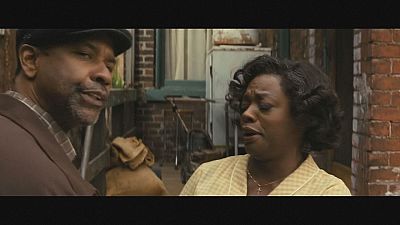 A story of a lost dream the film 'Fences', which is based on a stage play of the same name by August Wilson tells of how Troy Maxson aspired to becoming a Major League baseball player.
By the time the league admitted black players he was too old. The shattered dream led to decisions which tore his family apart. Director and lead actor Denzel Washington explains more.
'So for all young people, black, white, blue, green or whatever, keep fighting to tell your story. Don't have anything to do with who is president, does not have to do with whether you have a job or not.
'We live, forget the politics, we live in an instant gratification world, and that is not the case. You have got to grind and you have got to earn it like a everybody else, that's what these actors do, that is what August Wilson allowed us to do and here we are," he opined.
Washington and Viola Davis reprise their 2010 Tony winning roles
as egotistical garbage worker Troy Maxson and his long-suffering wife Rose in the intense family drama about lost hope, betrayal and race prejudice in 1950's America.
'I, well every woman in my life, myself, my mom, every woman but what I drew inspiration from was what on the page. What was on the page was a complete woman. I knew exactly who she was. Sometimes you have to massage the material and try to get that person extracted out, other times it's just there, it's left on the page. That's who I drew it from, August Wilson," explained Viola Davis.
'Fences' is the first play by the late, influential black playwright August Wilson to be turned into a film.
August Wilson's widow on the Fences film and MTC_NYC</a>&#39;s Jitney: "His legacy is alive and well" <a href="https://t.co/n8SqhgJh0k">https://t.co/n8SqhgJh0k</a> <a href="https://t.co/JzmZL7wxFD">pic.twitter.com/JzmZL7wxFD</a></p>&mdash; Playbill (playbill) December 23, 2016
Washington, 61, is seen as a leading contender for his third Oscar, while Davis, 51, is regarded as a shoo-in for the supporting actress race with 'Fences'.