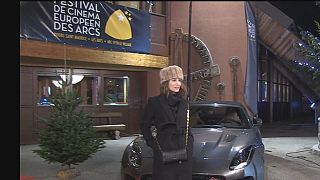 The European Festival of Arcs celebrates its eighth edition and has over the years become an unmissable event on the map of those festivals that matter in Europe.
The jury is chaired this year by the Romanian director Radu Mihaileanu, with several other prestigious members including Sebastian Schipper the producer of the hit movie 'Toni Erdmann' and Catherine Corsini who directed 'Leaving' with Kristin Scott Thomas.
"I believe that Europe has a particular strength and that is why we should not all follow the image of America which has its own strength.
'We must follow the strength of Europe with its multitude and diversity of different forms of thought. It is the wealth of Europe that at one time is multi-faceted but also shares a common history.
'We have a richness in all our differences. I believe that is the strength of Europe and that is the strength that we will find in this festival.
'That is to say a vibrant Europe, strong in its expression but diverse and in that diversity there is no weakness, there is strength," opined Radu Mihaileanu, Film Director & Jury President.
Almost 700 professionals will be at Les Arcs. The organisers see The Sundance Film Festival which is dedicated to American independent cinema the model to which to aspire.
This week, my short film Catherine is screening at Les Arcs European Film Festival! What an honour to show there, t… pic.twitter.com/LthZcahpy1

— Britt Raes (@BrittRaes) December 13, 2016
"The Sundance Festival is a great success story. It is where quality independent movies are screened and we would like to do the same but with independent European films and take them further into cinema screens and on television," explained Pierre-Emanuel Fleurantin, Festival Director.
The films are from the four corners of Europe, like the comedy 'Kills on Wheels' about Attila Till who became a national hero in Hungary in the 1990's after committing a series of robberies in and around Budapest, in which nobody was hurt.
"We hope that the 10 filmmakers at this festival will be like the 10 regulars of Cannes that they will establish their careers, develop their craft and reach full maturity. We want to push them, to make them known," concluded Pierre-Emanuel Fleurantin, Festival Director.
Among the 10 films to be screened is 'Mammals' from Rebecca Daly. It is a poignant drama about a woman who lost her son and was shown at the Sundance Festival.