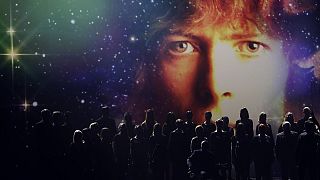 From actors and writers to musicians, the close of the year is a time to remember those who inspired and challenged us but whose muse has been silenced.
David Bowie
The year began with British music icon David Bowie's death from cancer.
The ever-changing artist behind ambitious concepts like "Space Oddity" and new wave pop like "Let's Dance" was 69 when he passed away in January.
He was regarded by critics and musicians as an innovator, particularly for his work in the 1970's. His career was marked by reinvention and visual presentation, his music and stagecraft significantly influencing popular music.
During his lifetime, his record sales, estimated at 140 million worldwide, made him one of the world's best-selling music artists.
Alan Rickman
British actor Alan Rickman had won over a new generation of fans as Professor Snape in the Harry Potter series.
The actor who had made his name playing beloved bad guy parts in films like "Robin Hood:Prince of Thieves" and "Die Hard" also died from cancer in January and at the age of 69.
Rickman also worked behind the camera directing two films "The Winter Guest" (1997) and "A Little Chaos" (2014).
Umberto Eco
The Italian novelist, literary critic, philosopher and university professor Umberto Eco was 84 when he passed away in February.
He was best known internationally for his 1980 novel 'Il nome della rosa' – 'The Name of the Rose'. It is a historical mystery combining semiotics in fiction with biblical analysis, medieval studies, and literary theory.
Prince
He has been lauded as one of the most inventive and influential musicians of modern times with hits including "Little Red Corvette," ''Let's Go Crazy" and "When Doves Cry".
Prince was 57 when he died from an accidental drug overdose in April in his suburban Minneapolis home.
Anton Yelchin
Anton Yelchin was a rising actor best known for playing Chekov in the new "Star Trek" films before he was killed in a freak car accident.
He was struck by his own vehicle as it rolled backward down his driveway in June. He was 27. The film "Star Trek Beyond" was dedicated to his memory.
Gene Wilder
Gene Wilder, the comedic actor whose tightly wound characters often seemed about to tear out their frizzy hair in such classic films as "Willy Wonka and the Chocolate Factory" and "Young Frankenstein," passed away in August at his home in Connecticut.
The American actor died of complications from Alzheimer's disease. He was 83.
Andrzej Wajda
Andrzej Wajda was 90 when he died in October. The acclaimed Polish director was famous for his films which reflected his country's turbulent history,
Recipient of an Honorary Oscar and the Palme d'Or, Wajda was a prominent member of the so-called "Polish Film School".
He directed more than 40 films in his 60 year-long career working until the end of his life.
Dario Fo
Italian actor–playwright, comedian, singer, theatre director, stage designer, songwriter, painter, and political campaigner, Dario Fo also passed away in October. He too was 90.
A controversial satirist, Fo was awarded the Nobel Prize in Literature in 1997.
Until his death, Fo remained an active participant and left-wing campaigner on various political, social and cultural issues.
Leonard Cohen
The author of "Suzanne," "I'm Your Man," and, "Hallelujah"
Leonard Cohen died in November. He was 82.
The Canadian musician, and poet had released his latest album just three weeks before his death.