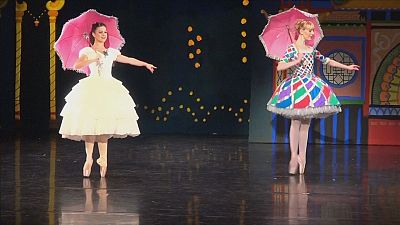 It's a Christmas production of 'The Nutcracker' with a difference – in the Danish capital Copenhagen, all the sets and costumes are designed by none other than the Queen herself.
Margrethe II of Denmark, who is also an accomplished painter, attended the ballet rehearsals ahead of the premiere at the Tivoli Concert Hall on December 1.
"I'm very excited and full of positive anticipation, I would say. I can see that it is shaping well and that everybody's enthusiastic, I think. I'm looking very much forward to the opening night," said the Queen.
For over a decade, the Queen has designed sets for numerous productions at the Pantomime Theatre in Tivoli. For this show, she tweaked and updated the set and costumes she first created back in 2012.
Jennifer Wagstaffe, who has been dancing in Copenhagen for seven years, has the part of Columbine: "It's always exciting to work with her. And she has such a passion for what she does, when she's making costumes and designing the sets."
"Her costumes are really unique. They have a lot of detail, which puts a nice touch to the end look of the production," says ballet dancer Kathleen Videira.
The sculptures adorning the concert hall were also designed by Queen Margrethe.
'The Nutcracker' runs at Copenhagen's Tivoli Concert Hall from the 1st to the 30th of December.