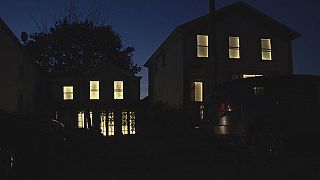 Some 200 abandoned homes in cities across New York State are being transformed into art installation as part of a new project entitled "'Breathing Lights'""http://www.adamfrelin.com/#/breathinglights/.
The brainchild of artist Adam Frelin in collaboration with architect Barbara Nelson, the project focusses on houses in distressed neighborhoods.
Their windows are equipped with pulsating lights, mimicking the breathing of living beings.
"What is also exciting is when people wanted to say what their first reaction was. There was a lot believing that the building was getting ready to explode, or there was like some power surge, or it was haunted," says Adam Frelin.
The aim of the project is to raise awareness of the rising number of vacant houses and empty buildings in the cities of Albany, Schenectady and Troy.
Jerry Ford is one of many volunteers who have helped organisers with the project in Troy.
"You look at it and most people will see an abandoned building, but this is abandoned families, this is abandoned communities, this is where society really starts to see a breakdown," he says.
Though the lights will gradually go off by the end of November, events around the project will continue, including community discussions, youth film festivals and tours.
But its success depends on local response, which has ranged from delight to anger – while some welcome this beacon of hope in their neighbourhood, others say the money for the project – a grant of 1 million dollars – could have been better spent.