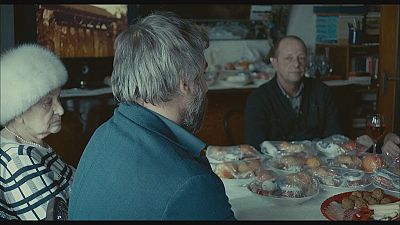 Following on the heels of 'The Death of Mr Lazarescu' and 'Aurora,' Romanian filmmaker
Christi Puiu's latest offering is '"Sieranevada'": its a dark comedy focusing on a family reunion.
"Sieranevada", probablemente lo mejor del año, comedia claustrofóbica que incómoda y dramatiza; combina diálogos banales y trascendentes pic.twitter.com/SwahK0dD8m

— Manuel Alegría (@ManuelAlegriaC) November 10, 2016
A funeral forces a large family to gather in a Bucharest apartment.
Secrets are revealed and emotions come to the fore.
The director takes up the story:"The starting point of the film was the commemoration of my father's death. After the funeral, this was this dinner and we talked about a lots of things, mainly politics, but not about him, the departed one. So I found this to be quite absurd and comic, and sad. I said to myself, some years later that I have to make a film out of it."
What marks a Puiu film is his dissection of everyday Romanian life.
Two Very Personal Short Films By Cristi Puiu, Accepting Chicago Int'l Gold And Silver Hugo For SIERANEVADAhttps://t.co/Wn2JBEYWQh

— Ray Pride (@RayPride) November 15, 2016
He continues: ''I have my own theory regarding cinema. I think there are basically two kind of directors. You have the directors who are recording mainly what is happening outside their heads and directors who are recording mainly what is happening inside their heads. And from ones we get this touch of realism, from the others we are getting the poetry, but in all the films you will have both. The proportion will change."
'Sieranevada', awarded Best Feature and Best Director at the Chicago Intl. Film Festival, is selected as the Romanian entry for the Best Foreign Language Film at the 89th Academy Awards.