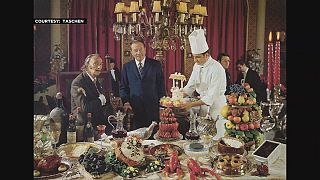 Some langoustines are destined to be mere appetizers. In the hands of a master chef they may also be set to become a piece of art.
The artist/ chef Sergio Humada is being guided by the great master of surrealism, Salvador Dali.
Michelin starred chef Humada is following a recipe from Dali's cookbook "Les Diners de Gala" first published in 1973, a recipe book which has now been republished.
"Les Diners de Gala "

Cookbook by Salvador Dalí, 1973. pic.twitter.com/4iZdFi5×0x

— Hipsteria (@hipst_eria) October 26, 2016
Chef Sergio Humada thinks that all Dali's recipes can be made at home, even though they will require some cooking skills and a well-stocked pantry.
"This aren't really surrealist recipes. Most of them can be made. I think the surreal in them is that you wouldn't make them nowadays. They aren't recipes easy to find today at any restaurant either because they are very old fashioned or else. But they are not that difficult to make," says Humada.
Dali shocked the world with his surrealist visions expressed in his paintings, drawings, sculptures and writings.
Discover "Encounter the Masterpieces": the Dalí Theatre-Museum's first 360 & VR experience on Inception VR… https://t.co/kzLinEA9CC

— Salvador Dalí (@MuseuDali) October 20, 2016
The original cookbook published in the 1970s was inspired by the opulent dinner parties thrown by him and his wife and muse Gala at their home in the Spanish Costa Brava.
It featured 136 recipes divided in 12 chapters, specially illustrated by Dali, and organized by meal courses, including aphrodisiacs.
In his autobiography "The Secret Life of Salvador Dali" the charismatic artist said that his earliest dream was to become a cook. Food is a recurrent theme in his works.
You mean, this isn't what they meant when they said "fast food?" #SalvadorDali#PhilippeHalsman#NationalFastFoodDaypic.twitter.com/CtJjdnTUdX

— The Dali Museum (@TheDali) November 16, 2016
Montse Aguer is the director of the Dali Museum in his hometown of Figueres. She
explains Dali's lifelong relationship between art and food.
"Dali used to say that the most philosophical organs of the human body are the jaws. He associated eating to his own evolution and gives eating a variety of meanings. Erotic, perverse, sadist. He also relates gastronomy with art history," she says.
Dali's cookbook has been reedited by Taschen.
It retails at 50 euros (53 US$) and is printed in several languages.
Food lovers you have been warned. Dare you embrace Dali's cooking challenge ?