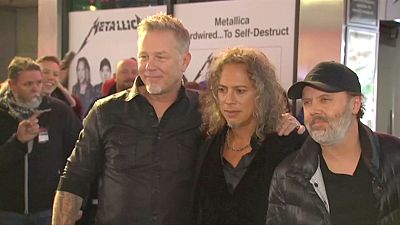 Metallica are back after eight years.
And according to some, their new album 'Hardwired' was worth the wait: hardcore fans will be delighted to hear it has been described as two CDs, 12 tracks and 80 minutes of in-your-face, punch-to-the-guts, dense, harsh, shouty rage with absolutely no let-up.
The iconic heavy metal band treated their London fans to a special midnight meet and greet ahead of the launch of the album, which is expected to follow in the footsteps of their 2008 Double Platinum 'Death Magnetic'.
"It feels great. It feels like we've waited too long – we tortured everyone else including ourselves (laughs) and it feels good to give birth to a new thing and have people listening to it," says band member James Hetfield.
"Once we put on the instruments we're like teenagers again and that, I think, is the magic of this band and, for me, I feel, creatively, we're just starting to blossom. There's something going on that feels really exciting," adds bassist Robert Trujillo.
Born in the Eighties in Los Angeles, Metallica has grown into one of the most commercially successful bands of all time. They have won eight Grammy Awards and five of their albums have consecutively debuted at number one on the Billboard 200.
Lars Ulrich, one of the founding members, is looking forward to their upcoming world tour: "We're very excited. It's a good time to be in Metallica right now," he says.
Metallica's 10th album, 'Hardwired… To Self-Destruct', is out now.