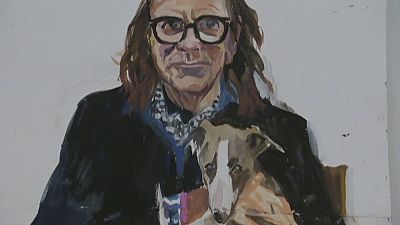 It is often said that people look like their pets. Now visitors to the National Portrait Gallery in Canberra have a chance to find out.
The Popular Pet Show is a collection of 160 paintings, drawings and sculptures of Australians with their pets by fifteen contemporary artists. Some were created especially for the show. All are a celebration of the joy we get from being around animals.
Sarah Engledow is the curator: "(There are) very different approaches but the same kind of humane, warm impulse on the part of the artists."
Among the artists on display is Ken Done, one of Australia's best-known painters. In his characteristic brash, cheerful works, Done pays tribute to the dogs in his life, including his old mate Spot.
"When I spent all that time in the studio and painting is essentially a lonely business – you've got to do it by yourself – he was the only one there. If I did a really good painting Spot would bark twice – woof woof!," smiles the artist.
Artist Lucy Culliton prefers chickens and sheep. She has painted dozens of head-and-shoulders portraits of them, up close and personal. "I want to paint all my sheep, I think there's 62 – all their portraits," she says.
Australians love their pets – seven out of ten own at least one, with dogs being the most popular. Cats come in second.
'The Popular Pet Show' runs at the National Portrait Gallery in Australia's capital Canberra until March 13.