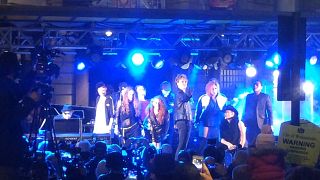 One street in central London was packed with Harley Davidson motorbikes, bikers, and rock and roll fans on Thursday night.
Unknown to many commuters trying to get home, this was the grand announcement of Bat Out of Hell: The Musical
The show has been described as an "epic rock and roll theatrical fantasy" inspired by Meatloaf's seminal 1977 album of the same name.
To mark the occasion, the 69-year old rock star made a rare public appearance. He has suffered with health problems of late, and had to stand with a walking stick.
Meatloaf, real name Marvin Lee Aday, said the musical has been composer Jim Steinman's dream for 50 years.
He thanked fans for continued support, adding that "without England, (Bat Out of Hell) wouldn't have existed".
The cast of the stage show then performed three songs from the production, including the famous track which gave both the album and the musical its name.