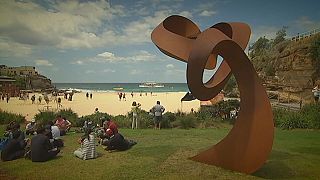 Sculpture by the Sea along the Bondi to Tamarama coastal walk near Sydney is the largest open-air sculpture show in the world.
It's just like a river, it changes course...

Sculpture artist
A visit to an outdoor sculpture park in Northern Bohemia twenty years ago inspired exhibition founder David Handley to do something similar in Australia.
David Handley, Founder, Sculpture by the Sea: "When I started Sculpture by the Sea the idea was always to hopefully create a major free-to-the-public event that the people of Sydney would respond to, as they have, that artists from all around the world would want to exhibit in, and that would project Australia in a wonderful light internationally."
Best sculpture and a monetary prize equivalent to 40,000 euros was awarded to Australian Johannes Pannekoek for "Change Ahead", which is inspired by the non-linear nature of life. The artist hauled the one-tonne corten steel work from his home near Perth in Western Australia.
Perth artist Johannes Pannekoek won the Bondi Sculpture by the Sea prize. https://t.co/PhWxDKmqhM

— PerthNow (@perthnow) October 20, 2016
Johannes Pannekoek, exposition winner: "It's just like a river, it changes course and I've changed my career on a number of occasions and you hope to learn from one to set off on the next task."
Sculpture by the Sea has become a popular and fun Australian event.
This year over 100 sculptures by artists from 17 countries are on display and over half a million spectators are expected to attend.