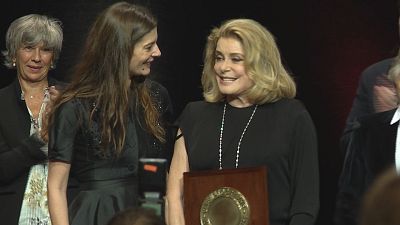 The eighth edition of the Lumiere Festival in the French city of Lyon opened in style with guest of honour Quentin Tarantino.
To be here with all these people, all these friends, actors, directors... it's quite overwhelming for me.

Actress
Three years after receiving the Lumiere Prize, which rewards an artist for lifetime achievement, the US director was back as a cinema lover to present his own selection of movies.
"It was something, that was such an exiting time, I'm really, really glad to be back," said an enthusiastic Tarantino on the red carpet. "This is one of the best festivals, to come here and you can actually watch old movies, it's terrific!"
"He's not coming back empty-handed, he's coming back with a retrospective of films from the year 1970," said the director of the Lumiere Festival, Thierry Frémaux. And he's said he's not coming back as a film-maker, he doesn't want to talk about himself or his work, he's here to talk about other people's films. And that's the spirit of this festival."
Tarantino's choice as opening movie for the festival was 1970 classic 'Butch Cassidy and The Sundance Kid' starring Paul Newman, Robert Redford and Katharine Ross.
Also invited as a guest of honour was Park Chan-Wook. The South Korean director presented a Master Class to a full theatre in Lyon as well as a selection of movies including his cult thriller 'Old Boy', which earned him the Grand Prix of the Jury in Cannes in 2004.
Park Chan-wook was delighted to attend the Lumiere Festival, which is almost exclusively dedicated to film classics: "I am a myself a cinema-lover, and I think that this festival is like me, in a way, because there are many films to see, especially movie classics or restored films. If I can, I would like to see as many as possible. There's really a big choice of films at this festival. In fact, often, given the choice, I'd rather watch classics to movies out now," he told Euronews reporter Frederic Ponsard.
Award-winning director Nicolas Winding Refn was also among this year's guests. The Danish director and cinema buff, who won Best Director in Cannes for 'Drive' in 2011, presented a restored version of his second film 'Bleeder', originally released in 1999 but rarely seen outside of Scandinavia. He says Lumiere really is a special kind of festival.
"It's very overwhelming, actually, because I've never been in a place that is so intense in its love for films and the appreciation and the celebration of it… so it's like a museum but it's constantly evolving and it's really about learning your past to understand your future," said Winding Refn.
The festival culminated with legendary French actress Catherine Deneuve receiving the Lumiere Prize from the hands of Polish director Roman Polanski, with whom she shot the 1965 cult horror movie 'Repulsion'.
"To be here with all these people, all these friends, actors, directors, to see all these film clips… it's quite overwhelming for me," said a very moved Deneuve.
Catherine Deneuve has won several awards over a career spanning six decades, playing in more than a hundred movies with some of cinema's greatest directors.