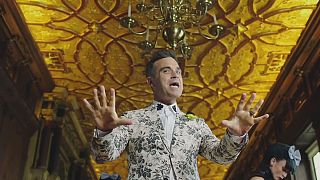 Robbie Williams is back. And his latest, provocative single and music video have drawn anger from Russia.
'Party Like a Russian', the first single from his upcoming album, features a sample from Prokofiev's 'Dance Of The Knights' with lyrics about an oligarch who alleviates the cash from a whole entire nation to build his own space station.
Several commentators have criticised the song for its "offensive" stereotyping with some tabloids suggesting Williams will never be able to perform in Russia again. Others, however, have praised it saying it successfully stereotypes a small section of Russian society.
Back in August, Williams is said to have been paid 1.6 million pounds for singing at the wedding of Russian oil tycoon Rashid Sardarov's daughter in Prague.
Robbie Williams' eleventh album 'Heavy Entertainment Show' is due out in November.
In a very different style, Nigerian-American artist Jidenna is about to launch his debut album, a year after leaving his mark with his Grammy-nominated debut single 'Classic Man'.
https://youtu.be/nsiN0W15w0U
Out now, 'Little Bit More' is the record's first single.
More of a fusion of styles, the singer-songwriter and producer says his sound doesn't fit into any single category.
"We describe it as swank. A lot of people say hip-hop and R'n'B, which is fine, that's cool, I definitely walk the line like many artists and definitely U.S.-based artists nowadays. But for me it's swank, it's about funk, it's about class, it's about world spice. Just a hint of it. So that's what the swank sound is. It gives you a certain bop and I think it's the sound of somebody who travels," he says, describing his music.
Jidenna's debut album 'Long Live The Chief' is due out later this autumn.