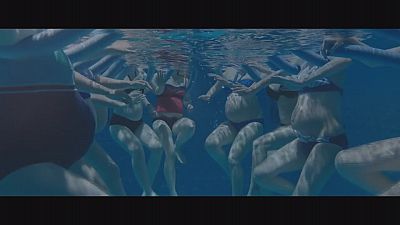 Astrid, a successful TV comic, is facing an emotional dilemma, she is pregnant with her second child, but the baby has some serious health issues.
The family have to make a decision.
#24Weeks #24Wochenhttps://t.co/wnQfbItOSV Thought provoking! #GermanFilmWeek#TravelViaFilms#Travel#Backpackingpic.twitter.com/v7iOyaRk2w

— Traveler Vic Simon (@thewanker) September 27, 2016
The movie '24 weeks' is the second film by German director Anne Zohra Berrached:''We improvised a lot, there was a screenplay, but for me it was more like a sketch. Some sequences were shot as written, with others we experimented. All I wanted was that moment of truth when actors behave instinctively. To achieve this I tried different methods."
Een abortus laten plegen of een onzekere toekomst tegemoet gaan? 24 Wochen, een realistisch #drama draait do 29 sep https://t.co/bgfNQGXoXUpic.twitter.com/rBvW1Znp9j

— Groninger Forum (@groningerforum) September 24, 2016
The film uses documentary elements as some of the characters play themselves.
Julia Jentsch stars:"I thought, no we will meet with a real doctor and a real
psychologist. They haven't read the screenplay, they don't know the text, how will this work? then you realise it works!"
Bjarne Mädel also stars:"That was the concept, to mix documentary and fiction and I think it worked out very well. When I watch the movie now, I never have the feeling,that's the part played by actors, now its the real life midwife..you don't feel the difference, it melts very well together."
Astrid and Markus initially decide to proceed with the pregnancy, but as she learns more about her child's grave health problems, Astrid starts to have doubts.
Anne Zohra Berrached was surprised by what she learned during the making of the film: "With certain issues you can not make a decision when you have never been in the situation. People who are living the situation take a completely different decision than they would have thought before being involved."
The movie has already won several German film awards and is now out in Germany and Austria.