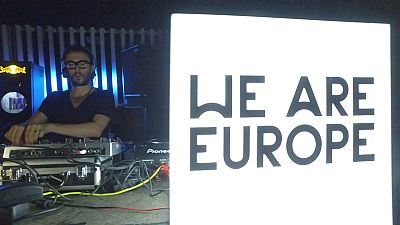 Born in 2005, the Reworks festival in the Greek city of Thessaloniki has grown into one of Europe's best-known platforms for acclaimed and emerging electronic music artists alike.
Extended from the usual three days to five, this 12th edition featured a dozen stages and a broad selection of artists, drawing thousands of fans from across Greece and further afield.
This edition saw the launch of two new projects says festival director, Anastasios Diolatzis.
"This year's at Reworks we have Reworks Agora. It is a new, very ambitious project, a platform for forums, discussions, screenings and concerts. We've also joined the 'We are Europe' programme. It's a very diverse project, that brings together eight major European festivals. It is a great honour for us to be part of this important initiative," Diolatzis told Euronews' Yorgos Mitropoulos.
Maceo Plex is the stage name of Cuban-American electronic-music DJ and producer Eric Estornel. After 20 years as a DJ, he knows exactly how to make the public dance: "I play everything, I play every kind of sound that is dance music except maybe really cheesy EDM (electronic dance music) stuff, but, you know, house, techno, electro… I play everything."
https://youtu.be/cXBIZOiSaxA
Among the acts was France's Agoria, a leading figure on the European electronic music scene, and Icelandic duo Kiasmos, which experiments by combining minimal piano composition with a heavy, electronic bass. Kiasmos is made up of BAFTA-winning composer Ólafur Arnalds and producer Janus Rasmussen.
"I like playing dance music that has a bit of emotion, something you can feel while you're dancing," said Rasmussen.
Thessaloniki-bred duo Tendts, comprised of brothers Fotis and Christos Papadakis, offers a mix of pop, soul, electronic and house.
https://youtu.be/HG7m-4pJcNg
"I play samples where I mix non-stop electronic beats and beautiful, sweet melodies," said Christo. "All of that with lots of noise and some… birdsong!," added his brother.
"For five days, the heart of Thessaloniki beat to great electronic music from around the world. All the gigs and DJ sets were sold out days before the opening, in a sign that Reworks is blossoming into one of the most important electronic music events in the world," said Yorgos Mitropoulos.