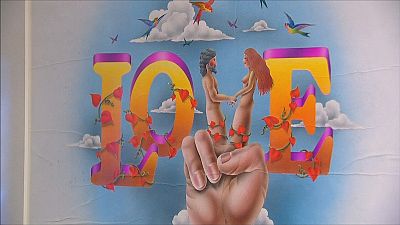 A new exhibit at London's Victoria and Albert Museum explores the late 1960's and its impact on our world today.
The popstars of this era were absolute gods and they were leading society

Exhibit co-curator
Through more than 350 items, it shows how a young generation deeply revolutionised western societies, at a time when homosexuality was banned and only married women could get the pill or a credit card.
"There were so many things that were actually transformed in this period legally," said exhibit co-curator Victoria Broackes.
"But beyond that, we're really looking at also how people's mindset changed and their openness to other ways of living and their rejection of authority and their independence changed."
Key to that was music: The exhibit features John Lennon and George Harrison's Sgt. Pepper suits, a drum kit played by 'The Who' drummer Keith Moon, and the remains of a guitar once played – and smashed – by Jimi Hendrix at London's Saville Theatre in 1967.
"The popstars of this era were absolute gods and they were leading society, so their impact with their dress and the places they went and the boutiques they went to and so on, bought things from and wore on album covers, that was hugely important on a wider culture," Broackes said.
Rebels and records
Through these rebels and their records, the exhibit explores an era of protest and fighting for civil rights. It's also when Europe embraced America's consumer culture – and televisions, futuristic furniture and record players invaded our homes.
The exhibition, "You Say You Want a Revolution? Records and Rebels 1966-1970" runs until 26 February 2017 at London's Victoria and Albert Museum.
Next year, the V&A will also be staging a major Pink Floyd retrospective.
The museum's director Martin Roth resigned earlier this month, citing his "disillusionment at the Brexit vote" as the reason for his departure. He said he would return to his native Germany. When he was appointed to the job in 2011, Roth was the first foreigner to lead the V&A.
He recently told German broadcaster DW that Britain's vote to leave Europe was worrying. "Dropping out always means creating cultural barriers and that worries me," he said.