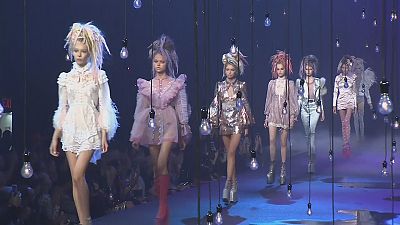 It was with a psychedelic spring-summer collection featuring a fusion of styles that Marc Jacobs wrapped up New York Fashion Week.
Hitting the runway in 15 cm-high platform boots, models sported pastel dreadlocks, knee-high socks and ultra-puffy sleeves in short baby doll dresses, hot pants and ruffle skirts. Hot pink, bright red and bold blue were sprinkled throughout the collection, with feathers and floral embellishments added in for good measure.
On social media platforms, the show garnered much attention not because of the clothing but because of the hair with many critics accusing the designer of cultural appropriation.
Veteran US fashion designer Ralph Lauren adopted the popular 'see-now-buy-now' retail concept for his new collection, which he showed on the penultimate day of New York Fashion Week.
Inspired by what he called the rugged beauty and romance of the American West, his outfits featured flowy dresses and sharp cut pants paired with classically Western elements such as leather and suede, embroidery, fringed jackets and cowboy hats..
In a traffic-stopping show, the models sashayed past Ralph Lauren's Manhattan stores down Madison Avenue in a giant glass-enclosed tent.
And designer Monique Lhuillier celebrated the 20th anniversary of her label with a retrospective collection.
Romance ran throughout the red carpet stunners in pale pinks and blush tones, adorned with delicate embroideries, feathers and splashes of sequins. Layers of draped pastel tulle flowed behind models as they walked the runway in glittery stilettos and strappy flats. Waists were cinched in by chunky black belts adding some drama to the ultra-feminine line.
And in a sign that fashion is also a window on society, designer Anniesa Hasibuan sent all her models down the catwalk wearing a hijab. Her show was one of the first by an Indonesian designer at the prestigious event.