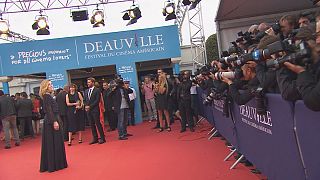 The stars and the stripes paraded at the Deauville American Film Festival.
Where 14 films are in competition for the top prize to be judged by a jury led by former French minister of culture and movie buff, Frédéric Mitterand.
Security is tight following the recent terrorist attacks in France, but organisers want the event to be a positive experience as euronews arts correspondent Lise Pederson explains:
"A 42nd edition of the legendary American Film Festival keen on sending a message of hope in troubled times. Deauville, where cinema is being celebrated as a bridge between nations and cultures."
This year a record seven out of the 60 films being screened are based on true stories including 'Infiltrator' directed by Brad Furman and starring Diane Kruger and Breaking Bad's Bryan Cranston.
The film follows undercover agent Bob Mazur who infiltrates Pablo Escobar's Medellin cartel.
Diane Kruger in ELIESAAB Haute Couture AW16-17 at the Opening Ceremony of the 42nd Deauville American Film Festival pic.twitter.com/bt6QGnPQQg

—

ELIE

SAAB

(@ElieSaabWorld) September 3, 2016
Diane Kruger is a real fan of the mob movie:" I'm hugely obsessed with Pablo Escobar and the whole drug cartel. I live in the US so I guess it's more well -known than it is in Europe, and I love the show 'Narcos', I don't know if you watch that, and I'm fascinated with organised crime and government involvement and banks… I don't know, that's sort of my cup of tea, it's definitely a movie I would go and see in the theatre, so the chance to play someone like that who is still alive and I got to pick her brain and sort of really get to know that world for a minute, I thought it was fascinating."
The festival honours the work of new and established artists this year Chloe Grace Moretz and Daniel Radcliffe are honoured as 'Hollywood Rising Stars.'
.ChloeGMoretz</a> wows in floral at the Deauville American Film Festival: <a href="https://t.co/DDjV1OonOU">https://t.co/DDjV1OonOU</a> <a href="https://t.co/YOsD1CdZcE">pic.twitter.com/YOsD1CdZcE</a></p>&mdash; ExtraTV (extratv) September 4, 2016
Those who have left an indelible mark on cinema audiences are rewarded with a private beach cabin on Deauville's Promenade des Planches.
Starting today: #deauville american film festival! Who wants to see celebrities? deauvilletwitts</a> <a href="https://twitter.com/hashtag/normandy?src=hash">#normandy</a> <a href="https://twitter.com/hashtag/FriYAY?src=hash">#FriYAY</a> <a href="https://t.co/iAC0Gbs4uJ">pic.twitter.com/iAC0Gbs4uJ</a></p>&mdash; Little Normandy (little_normandy) September 2, 2016
Special tribute has been paid this year to Oscar-nominated actor and director Stanley Tucci.
He has made more than 50 films spanning three decades.
Lise Pederson made the American actor a tempting offer:"You have been known to say that if you could you would like your hair back. If I were to offer you a blond wig, would you be prepared to play Donald Trump in your next movie?"
Tucci: (laughs) "It's very possible. yes. Playing Donald Trump would be a fascinating thing. I don't know that I'm the right guy to play Donald Trump…
Lise: "How would you prepare?"
Tucci: "It would take a while to get those gestures, or gesture, he has about two of them I think, and that voice, his sort of… his sort of corpulence, his astounding ego!"
Tribute was also paid to documentary filmmaker Michael Moore whose decorated work includes 'Bowling for Columbine' and 'Fahrenheit 9/11.'
He latest film 'Where to Invade Next' is on show in Deauville.
Follow the Deauville American Film Festival on euronews from September 2-11.