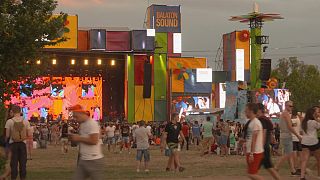 Hungary's biggest electronic music festival started on Wednesday at Lake Balaton, the biggest lake in Central Europe. This is the 10th Balatonsound festival. The first had 32,000 visitors, and this year the organisers are expecting between 170 and 180 thousand. It's not just the music that makes this festival so successful, it is also the atmosphere of the beautiful setting next to the lake.
For the five days of the festival, visitors can choose between hundreds of different acts on 10 different stages.
"When this festival first started, it was all about electronic music," explained DJ Gozth. "It has evolved and is now more eclectic. Different styles are on offer now like hip-hop for example and it's good to see the crowd loving it."
The percentage of visitors from abroad is also growing every year. Many come from the neighbouring countries but most of them come from Belgium and the Netherlands.
This international hype started in 2012 when Balatonsound was awarded the prize for the best medium-sized festival in Europe.
Chris will be performing at the Balaton Sound Festival on July 7th in Zamardi, Hungary pic.twitter.com/j5pPjRO0cE

— Breezy Yo! (@CTopherrific) 28 June 2016