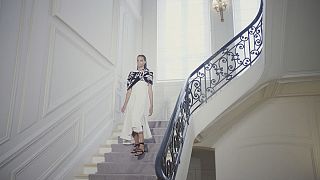 Giambattista Valli Collection
Alexander Sokurov's 2002 film Russian Ark was the main inspiration at Giambattista Valli's Haute Couture Autumn-Winter collection in Paris.
Every single piece is a special jewel

Singer
It was shot in Saint Petersburg's Winter Palace, which was home to Russia's monarchs for nearly 300 years before the revolution in 1917.
On the catwalk multi-layered tulle gowns and flower patterned long dresses echoed the frivolous attitude of young tsarinas during the film's ball sequence.
Francophone superstar Celine Dion, who is performing in France as part of her European tour, could not get enough of the show. "Every single piece is a special jewel, is a moment, is a femininity. It's a dream. It's so beautiful. I want them all," she said.
Dion made an emotional return to the stage last month despite having endured a difficult year in which she lost both her husband and her brother.
The 48-year-old singer patiently posed for photos with fans before hanging off the bannister of Dior's iconic atelier at 30 Avenue Montaigne, the venue for the show, to soak up the adulation and iridescent flashes.
The attention even eclipsed that of Johnny Hallyday, France's answer to Elvis, who also attended and had one screaming woman, in advanced years, trying to scale a barricade just to get close.
Ralph and Russo Collection
Ralph and Russo's fashion duo Tamara Ralph and Michael Russo also turned to Russia and Eastern Europe for inspiration for their Haute Couture Autumn-Winter collection.
There were plenty of tulle gowns adorned with flower patterns creating delicately feminine silhouettes.
Necklines were high or marked with a tulle butterfly at the closing of long capes.
Many looks sported wide embroidered hats.
A fishtail organza wedding gown closed the show, paired with a flower-covered high collar cape.
Ralph and Russo is the only British fashion house granted an entry into the highly selective Haute Couture fashion club in Paris.
Christian Dior Collection
The Christian Dior couture show was a return to the atelier in a collection almost exclusively crafted in black and white.
It was, so said the programme notes, a colour juxtaposition that the late Monsieur Dior himself loved.
Designers Serge Ruffieux and Lucie Meier borrowed from menswear tailoring and draping, delivering on low-key sandal flats with reductive Cleopatra-style eye make-up.
The monochrome colours suggested a strong theme of the designers, the duality of the masculine and feminine, and borrowed heavily from Dior's classic 40s look.