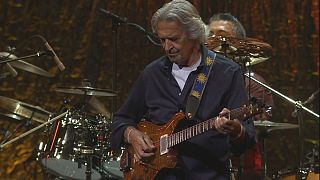 American pianist Randy Weston was among the opening acts at the 50th Montreux Jazz Festival where he gave an emotional performance accompanied by his African Rhythms Quintet.
The 90-year-old living legend of jazz has a more than 60-year career behind him, and almost 50 albums. He has collaborated with Dizzy Gillespie, Pharoah Sanders, Charles Mingus and David Murray, to name but a few.
Weston's visionary, innovative compositions fuse jazz and African music. He has moved the frontiers of jazz with his unique rhythmic creativity and rich sound.
McLaughlin pulls the stings John McLaughlin has been a regular at the Festival since his first performance in 1974. He is a cornerstone of fusion jazz, and used to be Miles Davis' guitarist. He has experimented widely through a varied career, whether as a trio with Al Di Meola and Paco de Lucia, or with the Mahavishnu Orchestra or again with Shakti.
McLaughlin switches between acoustic and electronic phases. The English musician continues to build beautiful musical bridges between cultures, accompanied by the quartet The 4th Dimension, founded in 2007.
Montreux this year is an eclectic gallery of glories and new talents; Russian-born Alina Engibaryan, winner the 2015 Shure Montreux Jazz Voice Competition was among the younger talents to perform.
This 22-year-old, who comes from a family of musicians, started singing when she was just two years old, before going on to excel at Russia's top jazz school. While studying in her home town of Rostov-on-Don, she took part in several Big Band projects, accompanying them on European tours.
After a spell in New York, she now lives in Holland where she is studying at the Prince Claus Conservatoire in Groningen.
French electro prodigy Petit Biscuit is the latest prodigy in the French electro scene. The project was launched by Rouen native Mehdi Benjelloun in 2014, who was then just 16. His work has been described as peaceful music with hypnotic melodies, as mature as the dark side of the moon.
Recording in his bedroom with only a guitar, a piano, and a PC, he is now a recognised talent thanks to his remarkable debut EP.
Montreux Jazz Festival runs until July 16th.