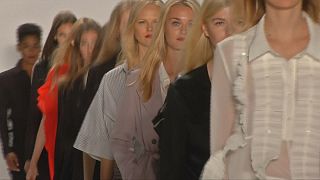 Dutch designer Erik Frenken took a step back in time when he opened the Berlin Fashion Week
He says he took inspiration from the Victorian period and its approach to form and structure when was designing his outfits
"So I started playing with these concepts, stripes and ruffles, giving the antique approach to pleating and ruffling and shapes," says Frenken.
The preview of his collection for the label Avelon featured stripy shirt-dresses, breezy wrap blouses and sneakers with platform soles.
Avelon's credo is to make a season-less looks for stylish ladies, combining garments with rough edges and delicate elements, for all types of occasions.
For this collection Frenken says he worked with various type of textiles: "I started making it in poplin, in clean materials, in shiny satins, also to create really a 'now-look' for me which is kind if the pyjama, effortless, clean, cool, relaxed look."
The Mercedes-Benz Fashion Week Berlin will offer a platform for well-established designers and new-comers to present 2017's spring and summer look.
More than 70 fashion shows and new talent competitions are programmed through Friday, when the event ends.
Major designer names on the list include Guido Maria Kretschmer, Michael Michalsky, Ewa Herzog, René Storck, Michael Sontag, Dorothee Schumacher and Anja Gockel.