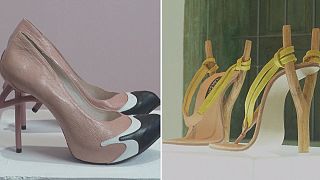 Israeli design of stilettos is center stage at an exhibition in Holon, south of Tel Aviv.
In my designs, there's always a sense of humour. I don't take it too seriously.

Designer
The exhibition 'Cinderella Syndrome: A journey in the footsteps of the stiletto' tries to decipher the magic, the fantasy, the reality – and even the pain – that's behind this version of the high heel.
Forty-five Israeli designers are showcasing their different interpretations of this most uncomfortable, but sexiest, of women's shoes.
Yaara Keydar, fashion historian and curator: "Ever since it was born 500 years ago, it keeps stirring scandals all over the world, mainly in Europe and the West. So I thought it would be really interesting to see how Israeli designers grasp this shoe, how they try to comprehend it and how they try to see the different aspects that it represents."
Designers were asked create the shoe of their dreams and to tell a story with it.
Stilettos by Tel Aviv's Kobi Levi are featured in the show. Lady Gaga wore shoes designed by him for her 2011 music video of Born this Way. His footwear costs between $800 and $3,000.
Kobi Levi, shoe designer: "My shoes are always wearable, 100 percent, I make them myself in my own two hands in my studio, and they are made to be worn. In my designs, there's always a sense of humour. I don't take it too seriously, I mean, a stiletto, if it's too serious, it looks painful. It's like in this shoe, in the flamingo, it looks like two legs. It's very, very simple and then it looks a little bit funny, so it's a sexy shoe, it's a high heel shoe, but it's also very light."
The exhibition features over 60 different pairs of stiletto, showcasing everything from erotica, fragility, gender and identity, turning the heel into standalone art rather than simply a fashion item.
It runs until August at Holon's HaChava Gallery.