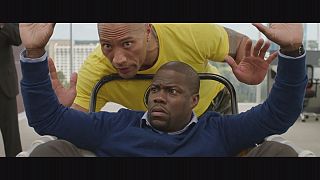 Bob Stone was a one-time bullied overweight geek at high school. But 20 years later he shows up to his high school reunion looking rather different, and hooks up with Calvin, a fast-talking accountant who misses his glory days as a popular athlete.
Stone is now a lethal CIA agent who needs Calvin's number skills to help him in his dangerous mission.
Directed by Rawson Marshall Thurber ('We're the Millers', 2013), 'Central Intelligence' stars comedy duo Dwayne Johnson and Kevin Hart.
Johnson, the former wrestler known as 'The Rock' has forged an action hero career in Hollywood, but has developed a comic side to his acting, too, as seen in the TV series 'Ballers', which is returning for a second series.
Director Thurber says Johnson and comic veteran Hart make a great double team: "What's so great about Kevin Hart is he can get laughs in scenes that don't deserve laughs. Like he can get you a laugh in just a dry scene. And what's both his superpower and kind of a danger is, literally, everything he says is funny. Everything he does is funny, the audience will laugh every single time. So you have to have a lot of discipline in the editing room not to put it all in."
The duo, who tap into the endless source of laughter that is their difference in stature, are working on several other projects besides 'Central Intelligence', including a planned Jumanji reboot.
"We both bring very valuable pieces to the table and when you put those things together all the ingredients are there for a higher level of success. We want global success. You're looking at two guys that aren't trying to look for a limited amount of success within our careers. We want the world," says Kevin Hart.
The film premiered in Los Angeles to mixed reviews with one critic saying that 'Central Intelligence' could use a little more intelligence.
Starring Dwayne Johnson and Kevin Hart, the film is on global release from now.