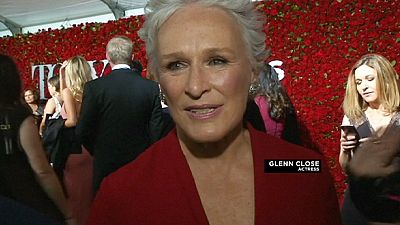 At the Tony Awards in Los Angeles, organisers dedicated the ceremony to the victims of the Orlando shooting.
Eventually we are going to have to pass some sensible gun laws and we have to put people into power that have gun laws in their platform.

Actor
James Corden opens Tony Awards with a heartfelt Orlando tribute https://t.co/EvCiUtEATmpic.twitter.com/yMsxSESkZD

— 9GAG (@9GAG) 13 juin 2016
As they arrived, nominees expressed shock and urged a change in gun laws.
"We have had Paris, now we have had this. It is a very, very worrying world that we live in," said composer Andrew Lloyd Webber. "And it's something that all of us who work in music and theatre and everything, we can only really fight by continuing to do what we do. And that is why I think that the empowering force of the arts is something that we must always fight with."
"Just shocked. It's something that I think you just want to take time to really process because it seems to be happening too much," said actress Glenn Close. "A friend of mine, who is gay, said 'I never thought that I would go into a club and have to check out where the exits are.' So we don't want to live like that."
Her thoughts were echoed by actor Gabriel Byrne: "This isn't just a question about the obscenity of what happened in Orlando. You have a situation in Orlando where you can buy an assault weapon with no legal permit, really, but a gay man cannot give his own blood to save his brother, that is an obscenity."
"I just couldn't believe, yet of course, it happened again," said actor Danny Burstein. "And it continues to happen again. And eventually we are going to have to pass some sensible gun laws and we have to put people into power that have gun laws in their platform."
Singer and producer Gloria Estefan had these words: "It's painful, it's horrific. When I woke up I thought, 'Oh lord, what else?' You know, every day we're facing something crazy and the world that we're handing over to our kids… all we can do is try to raise a new generation with a lot of love and have them learn more love than hate. We need to get away from violence in general and maybe that will make a difference."
Hamilton's Lin-Manuel Miranda pays most moving tribute to Orlando at Tony awardshttps://t.co/qFHKtZ2N27#loveislovepic.twitter.com/vXwGur602j

— Gay Star News (@gaystarnews) 13 juin 2016