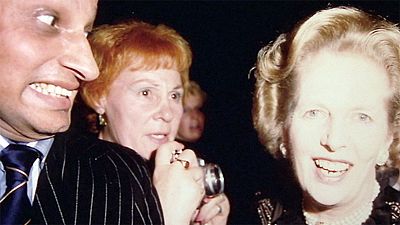 This year PhotoEspaña Spain's international festival of photography and visual arts, features 300 photographers from approximately 30 countries.
One aim is to provide a panoramic view of photography on the European continent, as seen in "Transitions. Ten years that transformed Europe", a French collector's photos from 1979 to '89, beginning with the election of British PM Margaret Thatcher to the fall of the Berlin Wall.
María García Yelo , director PhotoEspaña 2016: "The slogan of PhotoEspaña 2016 is 'Europes', because the conclusion we have reached after a year of working is that there is no single Europe, but there are different Europes with different realities … but, ultimately, there is a clear sense of belonging to a European territory and culture."
"Transitions" can be found at Madrid's Círculo de Bellas Artes.
The artistic programme for PhotoEspaña includes exhibitions commissioned from both artists and collectors and seeks to analyse the concept of Europe; what it is, what it has been and what it is composed of.
The "Migraciones" (Migrations) exhibition reflects on migratory movements and brings together works from collections at the Musée Nicéphore Niépce in Eastern France.
Now in its 19th year, PHotoEspaña is open through to August 28.