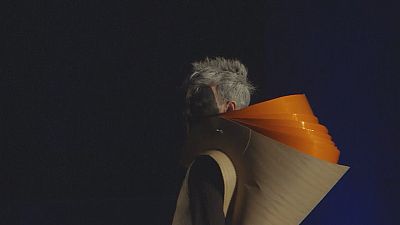 Fashion inspired by space was the subject of an event to mark the European Space Agency's five missions to the International Space Station over the past five years.
Couture in Orbit was kicked off by Austronaut Tim Peake and hosted by the London Science Museum.
Fashion students from Berlin, Copenhagen, London, Milan and Paris — the five home cities of the European Space Agency's astronauts — were asked to work with the theme of space as well as working with ESA-approved firms to incorporate smart tech into their garments.
Farid Bin Karim from Ravensbourne University in Greenwich, London, explains what inspired him to make his designs: "So the design of the helmet came from a nautilus shell and part of the other aspect of the design of the helmet is also with my design fiction. I had to imagine a scenario where people when they terraform an exo-planet, I had to imagine what they would be wearing."
Among the highlights were a variety of puffer jackets with internal heating mechanisms, and tailored jackets with bulbous clear sleeves that resembled astronauts' helmets.
"I come from Orenburg, this is the native city of Yuri Gagarin, because of this I am proud to participate in the fashion show which is inspired by the European Space Agency," says Banina Valeriya, a student from ESMOD in Paris
Jane Fonda est Barbarella en Paco Rabanne. 1968 pic.twitter.com/HzHrsMnwLE

— Olivier du Jaunet (@Odujaunet) August 25, 2015
Students in Milan were asked to think about everyday life in the space age, including physical and mental preparedness while Danish students were inspired by ideas of commuting in the space. In all, the show included 30 designs.
But if you think this is avant garde, then spare a thought for Pierre Cadin who was designing space-themed collections as far back as 1964. Or even Paco Rabanne, whose 1960s futuristic designs included the dresses worn by Jane Fonda in the 1968 film Barbarella.
Barbarella:Jane Fonda costume design by Paco Rabanne
1968年の映画「バーバレラ」のジェーン・フォンダの衣装を手掛けたのもパコ・ラバンヌ pic.twitter.com/YsRtdCgLlk

—

FREAK

SCENE

フサオ (@AcidEater_Fusao) February 28, 2014
POW!!! #Barbarella tries to save the universe. Click to see what happens next… https://t.co/4Q9xXoKfwJ#edfilmfestpic.twitter.com/QYp7ORCqB5

— Edinburgh Film Fest (@edfilmfest) May 27, 2016