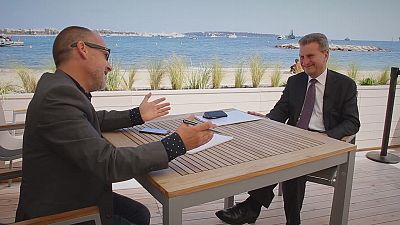 Since its launch in 1991, the MEDIA Programme of the European Union has invested over €2.4 billion in European creativity and cultural diversity. It has supported the development of thousands of films and their international distribution.
Our euronews correspondent in Cannes Frédéric Ponsard met up with Günther H. Oettinger, Commissioner for Digital Economy and Society.
"We have an annual budget of approximately €100 million," explained Oettinger. "We are spending this money on European films. We cover production and distribution costs. Europe is more than a single market, it is a family and we can be proud of having such cultural diversity."
Both the European Commission Vice-President Andrus Ansip and Commissioner Oettinger will be at the Cannes Film Festival this year to discuss the achievements of the MEDIA programme with professionals and artists such as Costa-Gavras.
Ten of the 21 MEDIA-funded films were vying for the Cannes film festival's Palme d'Or. Experienced film directors Ken Loach and Pedro Almodóvar were in the running for this year's coveted award.
Movies which have benefited from this programme, originate from 21 different countries, reflecting the diversity of the European audiovisual industry.
To mark the programme's 25th anniversary, a series of videos entitled 'we all love stories' were made to honour European audiovisual works.