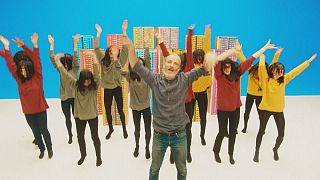 Scottish indie rockers Travis are back on the road with their eighth album 'Everything At Once'.
One of Britain's best loved bands, Travis had a prolific first decade, releasing six albums in just over a decade. But after that, they slowed down, taking what lead singer Fran Healy describes as a necessary break.
"We are back. It feels like we're in a real nice place. I don't think we've ever been in as good a shape, ever. Because when we came to London 20 years ago, literally 20 years to the month ago, you're full of beans and you're all confident and everything. Then you kind of hand it over, you hand it over to the business and they take that (your music) and they do the thing and you're just a turn. And now I think this clock face has come back round again and we've got that confidence again. We have a great collection of songs and we've got this other thing but we don't have to give it away. We can keep it in the system. So it really has a vibe about it, it's good."
Featuring a sound faithful to the band's trademark feel-good style, the album includes a couple of songs about our dependency on social media and the internet in general.
"We're more connected than we've ever been but actually more disconnected than we've ever been," says Healy. "Because we don't really do what you're doing right now, when you see someone, you're nodding at me and I could say something to you with my mouth and you'd get it and then you type it with no context and it's like a recipe for disaster because…"
"…There's no emotional direction behind it," continues bassist Dougie Payne. "It's just black and white, very kind of harsh. I think this perpetual connectivity of the modern age is actually the great red herring of the internet and of contemporary technology."
'Everything at Once' was launched to mostly critical acclaim in April, though some critics are clearly experiencing Travis fatigue, describing it as uplifting, if predictable and the same old harmless jangle.
Travis is currently embarked on a world tour that wraps up in the UK in September.