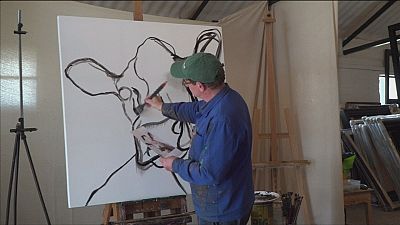 British painter John Marshall has spent the last decade deliberately restricting himself to just one subject: the humble cow.
Photographs are the first stage of the process where he looks to find a cow which engages with him in some way, so when he paints he can exaggerate the character and nature of his subject.
The 58-year-old's East Sussex studio, which is ironically a former cows milking parlour, is where Marshall works on his paintings.
"If the cow is soft and nurturing that's how I will paint it and if the cow is sort of angry and startled then I'll try and treat it differently," explains John Marshall. "It's the thing that is keeping them unique. It's more of an emotional portrayal than a photographic one."
Using a two-foot long brush, he marks out on the canvas where the light should be with black oil paint and turpentine.
The painting then evolves to its conclusion and Marshall says it is often the eyes and nose which are critical to ensure a connection with the audience.
Each painting can take up to several weeks and Marshall will work on others at the same time.
In the past 12 months, he has sold around 40 canvases, which can go on sale for up to 7,500 euros each.
Despite his success as an artist, Marshall's background is not in the fine arts. He started out working at a drawing restoration firm and was a civil servant for eight years.
love it RT"@JamesNewitt: My favourite cow painting by John Marshall @andrewcracknell#helpmeresistpic.twitter.com/JrxkBTaS"

— The Muddy Duck (@MuddyDuckHethe) 11 September 2012