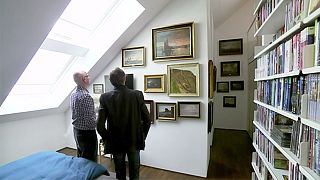 He doesn't necessarily know how to pronounce it, but Christoph Müller certainly has a good nose for Danish art, more precisely the 'Golden Age' of Danish painting. In his Berlin apartment, the 77-year-old German art collector and publisher has piled up 374 works of that particular period – and has now decided to give them all away. The entire collection has been entrusted to the "Pommersches Landesmuseum", located in his hometown of Greifswald on the German Baltic coast.
The museum is going to have the biggest German collection of Danish Golden Age art, and this will be featured in a special section, which will be ready in two years.
Müller is addicted to art. For him, it is all about sharing it with others.
In a recent interview, he said that collecting art was hard work and added that it was important not to be influenced by the prestige and jaw-dropping price tags.
Part of Müller's Danish collection is at the Alte Nationalgalerie in Berlin.