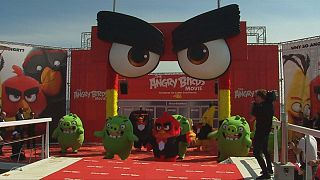 The Angry Birds have made the transition from telephone game to top billing at Cannes, with a 3-D animated movie coming out that spills the beans on why our feathered friends are just so angry.
Co-producer John Cohen says like everyone else he loved the app when it took the mobile world by storm.
"I am a huge fan of the games, I would even say that I'm an addict of the games, so when I was playing the game I started to think, 'Gosh, I could imagine these characters coming to live as a movie!'"
The origins myth sets the birds on an island home that seems like paradise, even if most of the population is grounded and flightless. Our heroes are outsiders, struggling to find their place in the birds' world.
Then one day little green pigs arrive on the island, and someone has to find out what they are up to.
The voicing features an international cast including French, Arabic and Russian characterisations and dubbing has been avoided to hopefully widen the film's appeal.
"I love this movie I loved the game so it's really cool, yeah, and we did fun stuff with the egg and stuff. Yeah, it's really cool. I love it," said Omar Sy, half of the hilarious French comedy duo Omar and Fred. He plays angry Red himself.
"We don't dub movies usually in the Arab world. We watch in English so it's kind of an experiment using local languages with local flavours, etc," says Lebanese TV presenter Raya Abirached, who plays Mathilda.
"I think the character is something special. Actually this is the best character for me, not because I was dubbing him, just because the way I had to switch from one mood to another one," says Russian TV star Timur Rodriguez, who plays Chuck.
Will the Angry Birds movie get the cinema cash registers whirring as fast as the app boosted the phone companies' profits? We will find out as the film rolls out over May.