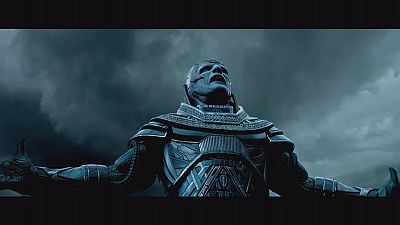 Some of the surviving X-Men cast turned up for what could be their last outing, "X-Men Apocalypse", for its London premiere.
Famke Janssen is long gone and the franchise is on churn to ensure a future with younger actors, and reliable cash flow.
"I love franchises. I only sign on to anything because I love the character and I love the story and with a stand alone movie it's great, you do a character arc between two hours. With a franchise you can do a character over a matter of years. It's all great," said Jennifer Lawrence, who returns as Mystique.
Franchise creator Bryan Singer returns to direct, but there is more than a hint of past glories and little of novelty to lift Apocalypse into five-star territory.
James McEvoy, now inhabiting Patrick Stewart's younger shoes, says he is proud of what he has done with the role, and the fans' reactions.
"To be the custodian of something that they hold so dear, so preciously to their hearts, it's fantastic. I was a fan when I was a kid, so if I hadn't been an actor, if I hadn't been this successful, I might be standing there. So I feel really proud to be the guy getting to do it," he says.
Oscar Isaac plays the all-powerful supervillain. How come if they are always so all-powerful, they always lose?
"Well we just tried to go back to the philosophy of the character. What does Apocalypse want and why does he want to do that and what makes this version of destroying the world unique? You know, it's nothing to do with naturalism, it's a kind of bigger expression, he's more of a concept than a person," says Isaac.
Ah, right, so the bad guy is more of an idea, and not real at all? And therein lies the rub with all this good-looking noisy nonsense, which will probably do the business at the box office regardless.