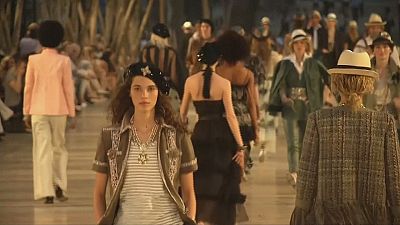 The celebrity spotlight was on Havana this week as an elite crowd of supermodels and Hollywood actors including Gisele Bundchen and Tilda Swinton arrived in the Cuban capital for the fashion event of the year.
Chanel has become the first major fashion house to send models down the catwalk in Cuba since Havana and Washington announced a thaw in relations in late 2014.
"It's a wonderful once-in-a-lifetime invitation to come to Cuba, which is a place – like many of us – that I've been wanting to come to for years and never managed to. I never expected to come here with Chanel," said Tilda Swinton.
Cuba is fast becoming one of the world's most fashionable destinations but the exclusive Chanel show was also a source of bitterness, with locals feeling they were left out.
"The decision for this show to be only for very limited number of people embassy personnel, foreigners, is ridiculous because if they come and decide to have a fashion show in Cuba, it should be for the Cuban people, for people who are hungry for these events," said local Liliana Suarez.
The Chanel show took place on Havana's Paseo del Prado, a seaside boulevard in a scruffy neighbourhood that got a makeover for the occasion.
The muted colours, hats and understated romance of Chanel's Cruise collection harked back to Cuba's golden era. Chanel said it took inspiration in the line originally designed for wealthy Americans holidaying on the island.
The show was the most extreme manifestation to date of Cuba's hot new status as the place to be on the international art and cultural scene.
President Barack Obama visited in March, the same week the Rolling Stones performed in Havana. Earlier this week the first US cruise in nearly four decades docked in the Cuban capital, and the latest installment of the multibillion-dollar 'Fast and Furious' action movie franchise, starring Vin Diesel, is currently filming there.